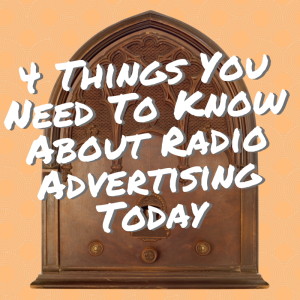 06 Feb

4 Things You Need To Know About Radio Advertising Today

4 Things You Need To Know About Radio Advertising Today

Along with TV and print, radio is a popular and effective medium of traditional, offline advertising. Radio programming is oriented around formats; this makes it easy to target your audience and find the sweet spot in your marketing. Here are four tips to get you started.

Find Your Target Market

Most markets offer a variety of radio stations to choose from. Audiences are generally broken down by gender and by age. Odds are your target market is predominantly tuned into one or two specific stations in your city area. When choosing a station to use, choose the one your customers are most likely to listen too. This strategy allows you to use radio advertising most effectively for your business.

Know the Costs

The costs for radio advertising include airtime and production costs. Typically, airtime costs are broken down into 30, 60 and 120 second segments. While the mantra in real estate is location, location, location, the radio advertising mantra is repetition, repetition, repetition. You won't see any worthwhile results unless you're consistent with the frequency of your radio message. With a larger metro station, plan on about $3,000 per week. With regional market stations, it will cost substantially less. Keep in mind that running your commercial a handful of times will wind up being a total waste of your advertising dollars. You just won't get results.

The production cost is the price for making the commercial. Some radio stations will include the production as part of the cost of advertising on its station. Most production teams at radio stations have good voice-over-talent and a track record of success. Still, consider all of the options before committing. If you do choose to go with an outside production, the costs vary a lot among regional areas, metro areas, ad agencies and production houses. When considering the costs, it just may be a good return on investment to go with a top-notch production.

Decide the Schedule

After your commercial is produced, you'll have two basic types of schedules to choose from. The run of station (ROS) is when the station decides the specific time of day for your commercial. The second type is called flights. With this strategy, you decide when and how long the commercial airs. ROS placements are less pricey than flights. That's because flights are based on the demand for specific times. For example, there's more demand during morning and evening hours.

To help determine the most popular listening times for your targeted audience, most local stations will be happy to provide you with the survey figures. Likely, they will have the highest quarter-hour listening numbers for your target demographic. Your station sales rep will guide you as to what times suit you the best.

Use the Right Amount of Words

The rule of thumb is 65 to 80 words for a 30-second spot. Generally, a 60-second spot will be about 30 to 45 seconds long. You'll want to be sure to add a phone number, web address or call to action at the end of the copy block. Since most people listen to radio while doing another task, such as driving or cleaning around the house, it's important not to put too much info in your radio commercial. Radio is a background medium. Focus on one idea or a single theme. When it comes to words, go economy style.

With these four tips, you can leverage the radio medium to the max. As a matter of fact, some of the effective advertising campaigns in history have been radio-only ads. Just be sure to target your audience and message. With the right combination, it should be a successful long-term campaign.