SUCCESSFUL BUSINESS TIPS
American Music Concepts is the countries premier jingle company, working with radio and TV stations from ALL 50 states, producing over 10,000 client jingles!
American Music Concepts Presents: The Jingle Podcast Episode 01 – January 2018
Hosted by "Jingle" Jim Reilly
Episode Description:
Interview 1: Jim talks radio advertising strategies, and success stories with Baron Wiley: Director of Sales, Salem Media Group – San Antonio Texas.
Interview 2: Jim talks about the jingle creation process with Peter Radd: Producer and formerly of Four Tops / The Temptations fame.
Jingles featured in this podcast:
Ballards Western Wear – Palm Springs, CA.
Gunsmoke and Lead – Fort Myers, FL.
Larsens Feed and Pet Supply – Santa Rosa, CA.
Deibler, Straub & Troutman Insurance – Elizabethville, PA.
The Weartherly Inn – Seattle, WA.
Ebert Family Clinic – Frisco, CO.
Alamo City Chocolate Factory – San Antonio, TX
Bumper Clinic – Indio, CA.
Ocean Breeze Water Park – Virginia Beach, VA.
Creekside Grooming – Martinsburg, WV
 http://www.americanmusicconcepts.com/
Like, share, and find us on Facebook @AmericanMusicConcepts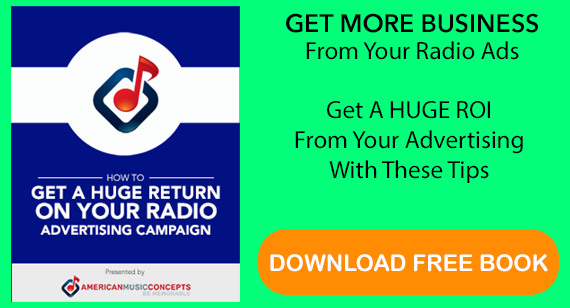 The post The Jingle Podcast E01 appeared first on Radio Commercial Sales Tips from American Music Concepts.
The key to getting results from your radio advertising is to make sure it is effective radio advertising. What really makes a radio ad effective? This depends not only on the actual audio commercial you have produced; it also is determined in part by other related factors.
Quality of production, choice of wording, time of airing, the quantity of ads you place in a schedule, and your choice of radio stations also enter into your quest for success. Here are 10 tips for successful radio advertising to use as you create your next radio ad campaign:
Reaching your target audience is the most important goal of radio advertising. To accomplish this, you need to determine who you want to reach and which stations of choice deliver that audience. Look closely at audience numbers by day part and also for special programming.
Creation of a memorable ad is your next project. You want your ad to immediately draw attention, but not offend your audience. A huge noise may gain attention, but also turn off the listener. Design an ad that fits the station's theme, so your ad fits in naturally. Don't put a rap ad on an easy listening station. If the station is all sports or news, using a jingle or other musical background is a good way to non-verbally let listeners know that this bit of information is different from the regular program content.
A jingle or sound logo adds instant recognition to your brand, service or company. Be consistent and remember to use the same audio in your other advertising, on television or in your store.
Keep it short and simple. You may only have 15 or 30 seconds to make your point. Stay on target by focusing on your main point. Remember that radio ads should motivate your target audience to take further action. It will not actually sell anything, but it should definitely motivate your listener to become interested enough to take action. You want them to call or visit your company, look for your product and want to try it.
Be identifiable – make sure your ad communicates what company/product is being advertised. Don't let the product or service get lost in ad cuteness. A jingle provides instant recognition of your company/product during your ad campaign. Use easy to remember words, but keep everything short and sweet. All of your ads, including jingles, should be consistent, well written and produced, not amateur. Every second counts!
Saturation – purchase enough ads in a concise schedule. One ad a day will not do the trick! Consult with your station sales rep about the various ad packages the station offers. You want a high frequency and short term ad campaign, not a large but weak and spread out ad schedule.
Place your advertising schedule at the times when your intended audience is most likely to make or want to make purchases. For example, if your product traditionally sells best on a Monday, run your ads on Sunday/Monday rather than on Tuesday.
Consider sponsorship of special programming to reach a targeted audience. This can be more effective than a broad schedule of commercials. Usually with a sponsorship, you get additional short show opening and closing mentions in addition to commercials within the program.
Be ready for response. Always have a call to action and be ready to serve your new customers. Have enough products available to meet expected demand. If weather or other circumstances interfere somehow with response, do a second blitz to move your inventory.
Check the results of your ad campaign to measure results. Use what works best over again to create higher recognition.
Incorporating a jingle or using a jingle package with your radio advertising is an excellent way to increase the impact of your ads. Your jingles provide an instant audio cue which, over time, helps communicate recognition of your company/product and sponsorship without using up words that are at a premium. Your jingle accomplishes many of the above goals for you, and becomes a way to instantly let listeners know they are about to hear from you!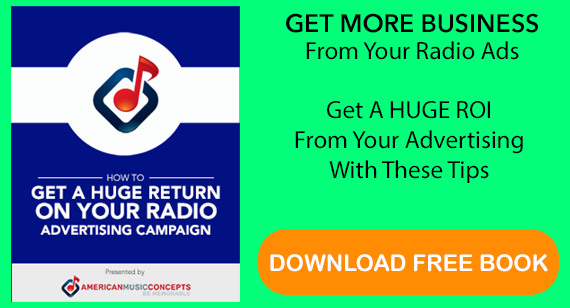 The post What Is Effective Radio Advertising, Really? appeared first on Radio Commercial Sales Tips from American Music Concepts.
Radio advertising is a great way to attract the attention of a targeted local customer base. When radio advertising campaigns follow some simple rules they are more effective. Many radio ads are ineffective because they simply do not give a compelling reason for the customer to contact the business. Here are five guidelines to follow in order to avoid the most common mistakes made in radio advertising.
1. Do Not Use Complicated Contact Information
Since most radio listeners will be driving in a car, or at work, it is unrealistic to expect them to write down a telephone number. Using a telephone number that is difficult to remember is a waste of valuable radio advertising words. Repeating a difficult to remember telephone number multiple times does not help.
If one feels compelled to use phone numbers, the best way is to make them part of a jingle and use a phone number that is really easy to remember, such as a tune that sings 1- 800 Plumber. Most ads do better without using telephone numbers, because the goal is to get customer to come to the business, not to call the business.
Street address numbers are also ineffective when they are difficult to remember. Better to say, "We have hot freshly baked bagels waiting for you at Joe's bakery on the downtown corner of First and Main," than to say "Come to 12539 Suite #2345A Main Street."
Websites that are not easy to spell correctly from hearing it are not good to use. This will only frustrate the customer when they misspell the website and then cannot find it.
2. Not Enough Frequency of Ads
It is estimated that in order to create a response, a person needs to hear a radio ad somewhere between six to ten times. Unless the ads run frequently and for a long enough period, the advertising money is wasted because the response is too low. Most radio advertising campaigns that are effective last for at least a minimum of 18 weeks.
3. Wrong Airtime and Incorrect Budget
Typically, radio stations charge a premium for prime time, which is also called "drive time" advertisements. Radio campaigns may be more effective with greater exposure during non-prime time periods. Estimates are that about 80% of those listeners that would hear a radio ad during prime time will be listening at other times as well. The cost of non-prime time ads is up to 80% less than prime time ads.
The key is to have enough budget, runs the ads frequently, and advertise for extended periods to generate the most cost-efficient responses.
4. Overuse of Clichés and Meaningless Discounts
Customers have been bombarded by advertisers using the same old worn-out clichés, such as "The Lowest Prices in Town," "Friendly Professional Help," or "Everything is on Sale." There are many of these clichés and they simply do not work at all. A better idea is to figure out why a customer has a compelling special reason to visit the business
Special does not mean discounts, or asking the customer to do something extra, like "Mention this radio ad and get 5% off." Discounts, especially small ones, tend to cheapen the value of the offering. Better to say, "Enjoy a free cup of our delicious freshly-brewed coffee with every bagel purchase," than to say "10% off all bagels."
5. Choosing the Wrong Radio Station
The idea is to saturate the local market with a radio advertising campaign where customers will hear the advertisements, not to run ads on a favorite radio station of the business owners. Check the radio stations demographics to make sure it contains potential customers for the business and consider running advertisements on more than one radio station to capture different audience segments.
By following these simple rules and avoiding the most common mistakes, radio advertising can be an effective part of local marketing efforts.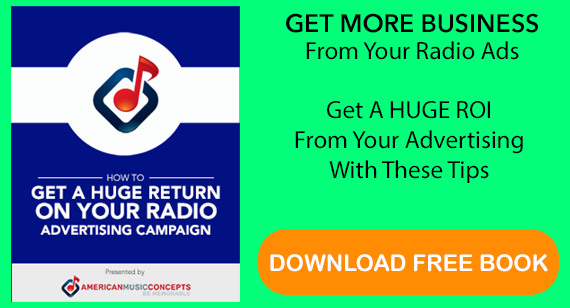 The post 5 Major Radio Advertising Mistakes You're Making Right Now appeared first on Radio Commercial Sales Tips from American Music Concepts.
5 Things You Should Never Do With Your Radio Commercial
The best radio commercials grab your attention, involve the listener, spin a story, sound believable and make a call to action all while keeping the product center stage. Done right, the radio ad creates a personal conversation with an individual prospective target that leaves a positive impression and generates a desire to take further action. A really good radio ad speaks to you.
The first radio commercial hit the air waves more than 90 years ago. Radio has been successfully reaching consumers ever since. Today, radio advertising's return on investment or ROI is approximately 17-percent higher than television, according to a study conducted by the Radio Ad Lab.
Radio commercials can be an extremely effective advertising tool but only if you avoid certain pitfalls. Consider the following five things to avoid with a radio commercial.
1. Miss the Connection
It's important to make a connection with your audience, offering something that's relatable to each listener. If you miss that connection, you lose your target. Connect with the audience by appealing to senses and emotions. Tell a story that could easily be their story. Your audience eats dinner each night and if you're creating a radio commercial for a pizza place, make that connection: target needs convenient meal; ad appeals to that need.
2. Too Many Numbers
Often your audience is listening to the radio while doing something else like driving or working. Throwing too many numbers at listeners in a 30 or 60 radio commercial is not effective. A radio listener's attention will wander when the music switches to an ad that contains mostly facts, figures and technical data. Avoid including lengthy URL addresses in a call to action or offering multiple phone numbers. For example, "Call local at 312-555-1234 or 312-555-4321 or toll free at 1-800-555-9191." Too many numbers, too much information.
3. The Laundry List
Much like bombarding a radio audience with too much technical information or 15 seconds of phone numbers and URL addresses, a script that reads like a laundry list rarely is effective copy for a radio ad. Instead of listing the benefits of a product, show its benefits through snappy dialogue, a relatable vignette or a catchy jingle. A testimonial is another way to communicate the product benefits in a believable way without having to create a boring list.
4. Poor Word Choices
A radio commercial is not an academic dissertation. Create copy that sounds similar to the way people speak. Avoid verbiage such a therefore, thus, moreover and so forth. Actually, you may want to avoid the phrase, 'and so forth' as well. Slang terms also should be avoided in many cases. Using slang can be a tricky process with radio copy and often it's best to simply create copy that can be communicated concisely without making your target audience cringe at the word choice.
5. Missing the Selling Idea
One of the biggest pitfalls to avoid with radio ads is missing the selling idea. Ads that are so focused on telling a joke or inspirational story can end up missing the mark because they forget to connect the joke or story to the actual selling idea. Creativity with a radio commercial can be an effective method for a memorable ad, but only if the listener can connect the story/joke/jingle to the company, product or service being promoted. Remember, your selling idea should always be the star of the radio commercial, it's the reason the ad is created. If you can remove the product from the copy and it still reads as a complete concept, you've missed the selling idea.
Radio commercials can connect with a vast, diverse audience generating name recognition and product sales. Avoid the common pitfalls and your radio ads can go from forgettable to "Hey, did you hear that?"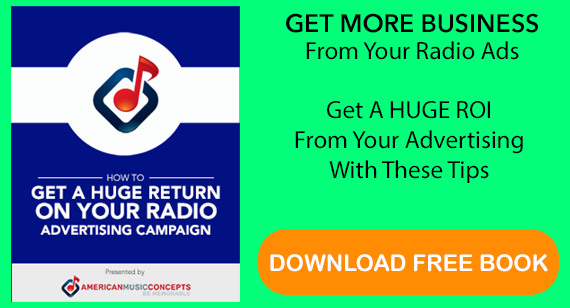 The post 5 Things You Should Never Do With Your Radio Commercial appeared first on Radio Commercial Sales Tips from American Music Concepts.